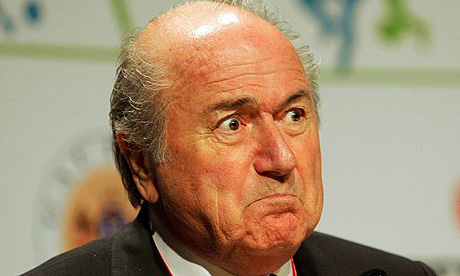 FIFA President Sepp Blatter, on the verge of tears after being ridiculed for his suggestion that female soccer players should "wear tighter shorts...to create a more female aesthetic."By Ken Devine
Soccer fans all over the world are contending the "World Champions" label that the New York Yankees earned for defeating the Philadelphia Phillies Wednesday night in Game 6 of the 2009 World Series.
FIFA President Sepp Blatter explained that the true football fans of the world are upset because baseball is not played in every corner of the world, but soccer is.
"The New York Yankees are North American champions at best," he stated. "Football is the only sport that can claim true world champions."
In an effort to detract from the Yankees' championship celebration on Friday with their fans in New York City, international soccer bodies have planned worldwide protests in every non-American city for the same day. Objectors will likely wave vituperative placards denouncing American baseball while burning effigies of Alex Rodriguez and George Steinbrenner.
Blatter also promised that petitions are in the works to prohibit the "World Champions" label in professional baseball, as well as banning the word "soccer" when referring to European football.