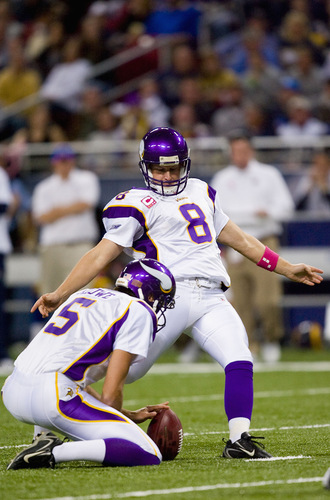 I wrote about this subject a few years ago, but after watching the Vikings get eliminated in overtime by the Saints last weekend, I thought it was worth reviving.
Anyone who knows me knows that I'm a huge college football fan, but I don't care much for the NFL. Other reasons aside, one thing that really irks about the NFL is its sudden-death overtime system. It's wrong and unfair.
Because football is a game of alternating possessions, it doesn't lend itself to a system that determines its winner based on who can score first. Although the college game is flawed with the BCS, its alternating-possession system works well in overtime, where both teams have an equal chance to prevail. Sudden death works best in more fluid, back-and-forth sports like hockey, where possession changes often and the system provides the edge-of-your seat thrills that it's supposed to. It just doesn't have a place on the gridiron.
In football, the sudden-death system favors the offense. Yes, the offensive team has to receive the ball on their end of the field, but they only have to move the ball about 40 yards to set up a game-winning field goal. And this is what kills me the most about watching teams get eliminated from the playoffs in overtime: After a hard-fought game, sudden death essentially allows the random flip of a coin to likely determine the winner—but not necessarily the best team or the one that deserved to win. It's just cheap.
I remember watching the Titans beat the Steelers in overtime a few seasons ago on a Gary Anderson chip shot—well, chip shots (there were penalties). As Nashville began to go crazy, it felt like a victory that was neither decisive nor satisfying—all it proved was that the Titans could kick the ball through the uprights on their first possession in overtime. Could Pittsburgh have pulled that off had the coin flipped their way? Probably. But the Titans got to play the next week while the Steelers were done for the year.
The only way to improve the NFL's sudden-death system is to make teams go the length of the field to score touchdowns. Making it mandatory to get into the endzone would certainly make it fairer for the team playing defense, but the games would run longer. There's a downside no matter how you slice it, but above all, the factor that should take precedence is fairness.
The Vikings shot themselves in the foot several times against the Saints. But if there was no sudden death, Brett Favre might be playing next weekend in another Super Bowl. And although I'm not an NFL guru, Favre vs. Manning is a matchup that even I would be excited to watch.
Vindication
: