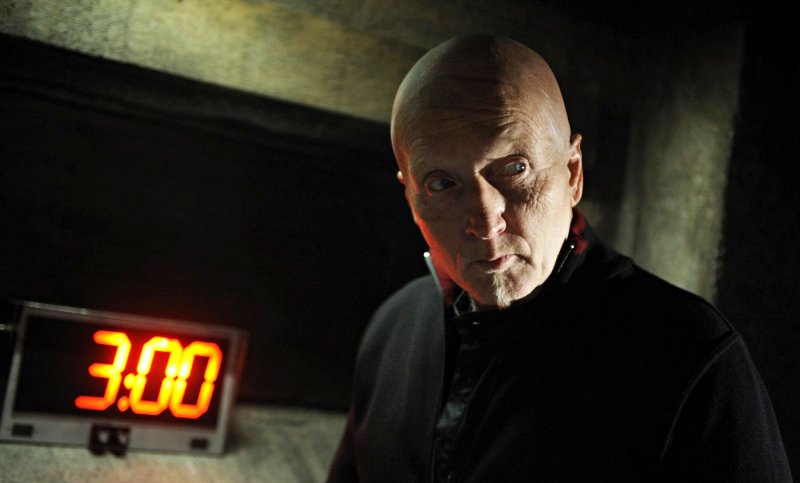 Get busy livin': Jigsaw's made his choiceBy Ken Devine
NEW YORK—The twisted serial killer Jigsaw will live to see many more Halloweens, says Lionsgate, who announced today that there are currently 12 additional films planned in the unceasing
Saw
franchise, which has become a Halloween tradition since 2004.
The news comes despite the framing of the just-released
Saw VI
, which was widely believed to be the final installment in an already dragged-out horror series that could have well ended after two movies.
Moreover, the announcement flies in the face of the diminishing, half-life box office earnings of successive
Saw
movies, with public interest and originality almost as dead as the blood-drained and footless Cary Elwes at the end of the first film.
The call for a dozen more pieces to an increasingly complex, flashback-furthering puzzle also seems to pose a storytelling challenge, considering that Tobin Bell's gravely voiced arch-villain died at the end of
Saw III
. By 2021, Bell will be a 78-year-old filming flashbacks for a character who was killed 14 movies prior.
"Jigsaw's back story is far from over," insisted
Saw VI
co-writer Patrick Melton. "If we delve into his troubled childhood, there's all kinds of directions you can go. Did he capture school bullies and rip their fingernails off with rudimentary, school-made devices? Was he physically abused by his stepfather when he was 13? Is he even really dead? We're on the tip of the iceberg here."
In each film, Jigsaw physically and psychologically tests ungrateful victims' will to live using death traps that serve as ironically symbolic representations of their real-life vices. Some opt to perform a horrific act of self-sacrifice to save themselves, but most die trying.
According to
Saw
co-producer Leigh Whannell, the games have just begun.
"If you thought after six movies that we'd exhausted every possible way to inhumanly torture, dismember and eviscerate victims with barbaric, vomit-inducing death traps, think again," he chuckled. "I guess we're all pretty fucked-up in the head, especially when you get us all together in a room watching
Seven
for the 800th time."
Despite the poor performance in theaters and waning interest in the formulaic franchise,
Saw
has garnered enough of a cult following to keep it afloat in theaters—barely.
"We're not sure who, but someone is paying to see these movies," admitted Paul Dergarabedian of Hollywood.com. "Like we saw with the
Hostel
films, there are enough sickos in the world who get off on the torture-porn genre. And now they'll be able to get their fix every Halloween for the foreseeable future."
With so many future films slated, continuity issues may arise with the 67-year-old Bell, a self-admitted misanthrope who has loyally agreed to reprise the role of Jigsaw until he finds himself on his own deathbed.
But in a case of life imitating art, Bell's contract permits him to commit such cruel and heinous acts in reality only if he's ever diagnosed as terminal—much like Jigsaw's alter ego, John Kramer.
"It was the only way to keep him coming back," said original
Saw
director James Wan. "Tobin loves doing these movies as much as we do—maybe more. If he's serious about actually orchestrating an elaborate, fail-safe plot to punish anyone who's ever pissed him off, I can't think of a better way for a sick old man to go out."
"The set pieces are his," he added.
In order to hold the interest level of a fringe fan base while desperately avoiding the straight-to-video market for what is tentatively projected to be an 18-part series, co-producer Mark Burg all but promises more inevitable, trademark plot twists.
"Does Jigsaw have an identical twin? Did he ever clone himself? Just throwing it out there," he said with a devilish smile.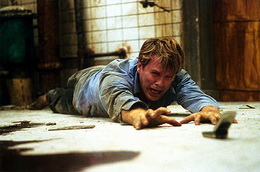 Prepare to die: Cary Elwes, in the last movie we'll ever see him in
Burg also hinted that some long-dead fan favorites might return.
"Being the star of the first film, Cary Elwes holds a special place in all of our hearts," he said. "The critics said his performance was painful, but if you didn't tell me I was watching a movie, I would've believed he actually sawed his damn foot off to free himself from those shackles. That's real acting there."
On another note, Burg ruled out the idea of bringing back Donnie Wahlberg, who has severed all communication with
Saw
personnel after his detective character's head was helplessly and unceremoniously smashed to smithereens at the end of the fourth installment. This after being promised a hero's return following an unknown-fate hiatus from
Saw III
.
In January, production will begin on
Saw VII
, scheduled for an October 2010 release. Despite a brutal 28% average approval rating for the first five
Saw
films on Rotten Tomatoes,
Saw
's creators are determined to press on.
"We make these movies for the fans, and I wouldn't say we're 'dragging it out,'" he defended. "If anything I would call it 'fleshing out,' especially since we've refused to allow the last few movies to run past 90 minutes."
"Where there's a will, there's a way," he added. "Which is pretty much the moral of our preposterously never-ending story."
Impossible
:
'Saw 3D' will be the final cut for horror franchise